Release Notes 10/29/2020
UCPath Employment Daily
 & UCPath DOPE -
10/29/2020 release updates

Most of the changes for this release happened at the universe layer. The DOPE report had some minor changes as well. That being said, the universe changes support a more precise relationship between job, compensation, benefits and salary data that are reflected in the related UCPath corporate reports. Also, there are a number of changes to support the work currently in progress for the conversion of two PPS corporate reports; Separations and Headcount. Thank you very much to all of our partners and users for their time, knowledge and patience.


Highlights of what's new
UCPath - DOPE Report Changes
Page formatting was altered to help with PDF output formatting.





A new optional prompt for Job Code was added.
UCPath Employment Daily - Universe changes
A new object for "SBE FISAP Code" was added in the Salary and Benefits Expenses folder. This addition of CLASS_FLD from the R_UC_LL_SAL_DTL table is a student employment code that defines the federal category for FISAP reporting.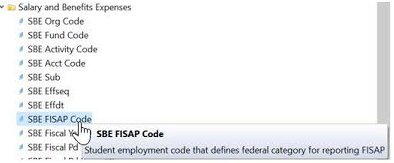 2.  Multiple changes were made to the LL_SAL_BENE_MERGED derived table in the universe. This table brings together the benefits and salary labor ledger tables while also joining to compensation data on the salary side. The core job table was brought in to the benefits side so that the Dept ID from the job record could be returned for each benefit record (as is done with salary records). Also, several key elements were changed in how we join to the job table that provide a more precise point in time relationship between job data and both the benefits and salary sides of the UCPath house.
3.  Multiple business layer changes were made to the universe to accommodate continued development work on two PPS corporate report conversions; Separations and Headcount.

Address changes to allow access to a previous point in time address. This includes removing the default CURRENT_RECORD = Y forced join.





Added object "J Benefits Eligibility 1" for Benefits eligibility which defines a job's benefit eligibility status. This along with the rest of the Benefits Eligibility objects from the job record are located within the Benefits Eligibility Indicators folder within the Job Details folder.

Added "J Last Update Dt", "J Effective From Dt" and "J Effective To Dt" objects from the core job table to be used for selection criteria in queries. These objects are located under the Job Most Frequent folder.

Added a measure version of "PE Dist Pct" for reports that summarize the distribution percent of a multi funded position / job.

Added objects for "J Empl Class Desc" and "J Empl Class Desc Short" and a custom LOV for "J Empl Class" selections. 

Added an object "PE Dist FTE" which uses Funding Type to accumulate distribution percent for codes 010,050,070.