Send Reports to Others
Introduction
Anyone with access to InfoView can choose to send reports to the internal InfoView Inbox of any other user. The recipient user can receive any and all reports but will only be able to run reports based on data sets (universes) that they have been granted access to.
For more information about access levels and options, check out our Getting An Account pages, including more information about Access Levels.
When you send a report within InfoView, it will send the report and all of the data saved in it. If you want to send an empty report, check out our Purging Data Guide.
Video
Step-by-Step Guide
1. Find the report that you want to send.
Don't know where it is? Check out our video on how to Find Reports.
2. Select the report with a single click. For multiple reports, hold down the ctrl key on a windows machine or the alt key on a mac and continue selecting.
3. Click the "Send" button in the ribbon of buttons above your folder and select the only option "BI Inbox".

4. To search for the recipient:
I) Make sure "User List" is highlighted in blue
II) Type in the Cruz ID of the recipient into the text box
III) Click the binoculars to search.
Complete steps I-III to search again.
5. Select the recipient with a single click or select multiples as in Step 2.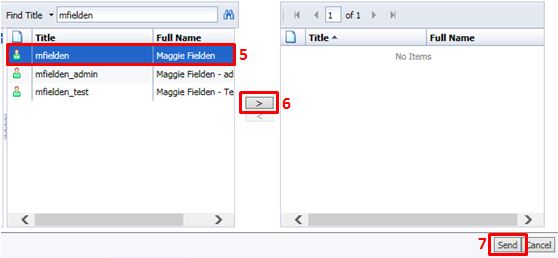 6. Click the ">" button once you have made your selections.
To deselect, pick from the list of selected recipients and click the "<" button.
7. When you are satisfied with the list under "Selected Recipients", click "Send".
The reports will arrive in their Inbox. For more information about what that looks like, check out our Find Reports Guide.