Print Reports
Video
Step-by-Step Guide
In order to Print, InfoView exports your report to PDF and allows you to print inside your Adobe PDF Reader.
Warning: Your exported document will reflect the choices that you have made in your drill filters! If you want the whole data set, make sure all of your drill filters say "All Values".
1. Open and run the report that you'd like to print.
Don't know how? Check out our Open and Run Reports video and guide.
2. To more than one report tab, click on the print icon, and skip to step 5.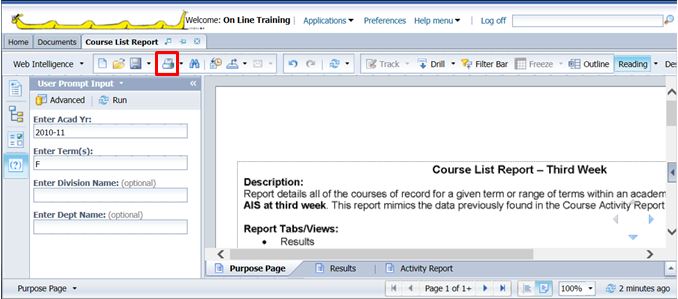 3. To print only a specific part of the document, click on the small triangle next to the print icon. Then select the only option in the menu: "Print"
4. In the pop-up window, make your selection:
A) "All reports" will print all tabs of the document
B) "Current report" will print only the tab that you're currently looking at.
"All", "Current Page" and "Pages" give you options of which part of the current tab you would like to print
C) "Page Size" gives you paper size options.
Warning: the size will default to the size of paper for the page that you are currently on.
D-F) Allows you to change the margins, scaling and page orientation.
G) To print your selection, click "Print"
5. Depending on your browser preferences, your browser may download the report as a PDF, open the file automatically in Adobe PDF Reader or it may ask which action you would like to do.

6. Once the PDF is open in Adobe, click on the "File" menu and select "print", or click the "print" icon in the button bar above your document.
File - Print:
Print icon:

7. In the printing pop-up window, make sure to check the following:
A) Decide what pages to print. InfoView reports can be very long, so make sure you really do need all the pages.
B) Make sure the page size is what you would like
C) Check that the orientation is correct.