Open and Refresh Reports
Video
Step-by-Step Guide
1. Find a report that you want to open
Don't know how to find your report? Check out our Find Reports video and guide.
Shown here: "Course List Report" Corporate Report from the Student Universe.
2. Double click on that report. It will open in a new InfoView Tab.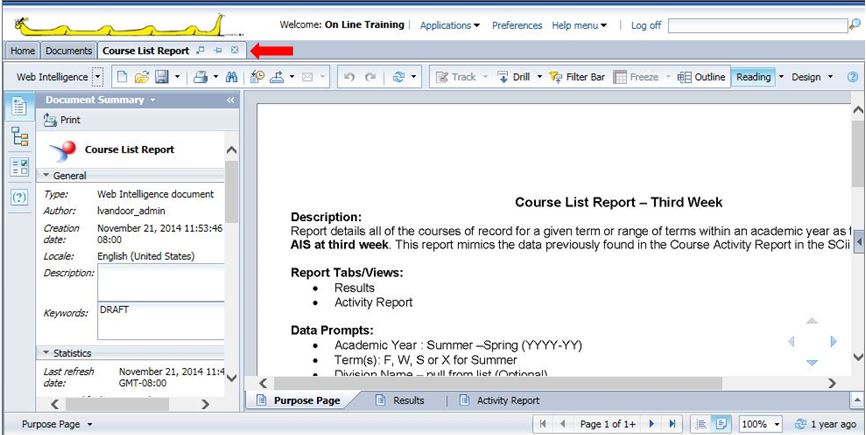 Reports have multiple tabs, which can show different tables pulling from the same data.
There are two different ways to navigate between report tabs:
a) Click through the tabs underneath the report (shown below)
b) Click and choose from a list via the button in the footer row
The report will show the information that it contained when it was saved last.
Empty reports look like this:
Warning: If your report is not empty, it might have very old data in it!
3. To retrieve the newest data, refresh your report by clicking the "refresh" button in the bottom right corner.
This will also show you when the last time the report was refreshed and saved.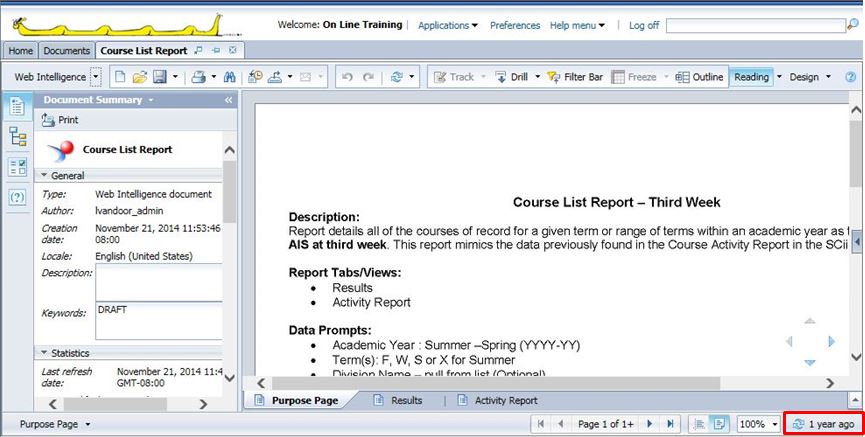 4. If the report contains prompts, a window will pop up and you will have the opportunity to fill in what information you want to see.
Type in the values or select from the list (if available) and click the ">" button to fill out a prompt.
To see more instructions about how to fill in prompts, check our our Prompts Guide.
Tips and Tricks:
The "User Prompt Input Panel" can be helpful for reports with prompts.
1. Navigate to the User Prompt Input Panel by clicking on the "(?)" on the left menu bar (shown below).
2. To open the Prompt Input Panel directly, click "Advanced" (shown below).
3. Or, fill out the prompts in the User Prompt Input Panel and click "Run"
Note: The "Run" button labeled in step 3 will be grayed out until all the required prompts are filled out.