Use Input Controls
Definition
Input Controls are dynamic filters on a report that users can operate after a report has refreshed. They are similar to Drill-Filters, but give more options than a simple drop-down menu. These filters can be activated by anyone who can run the report, including read-only users, but must be built in by a report writer. They can be applied to a single table, a single report tab or to the entire report, as deemed necessary by the report writer.
Video
Input Controls
Prerequisite: Have your report open and make sure it is in Design Mode. If necessary, refresh your report.
1. Navigate to the Analysis menu and the Filters submenu.

2. Select Input Controls
3. Pick the object that you would like to filter on, then click "Next >"
4. Pick the type of input control you would like. Depending on the data type of the field you chose in the previous step, you may see different choices in your list.
For example, the "Calendar" input control is only available for fields that are dates.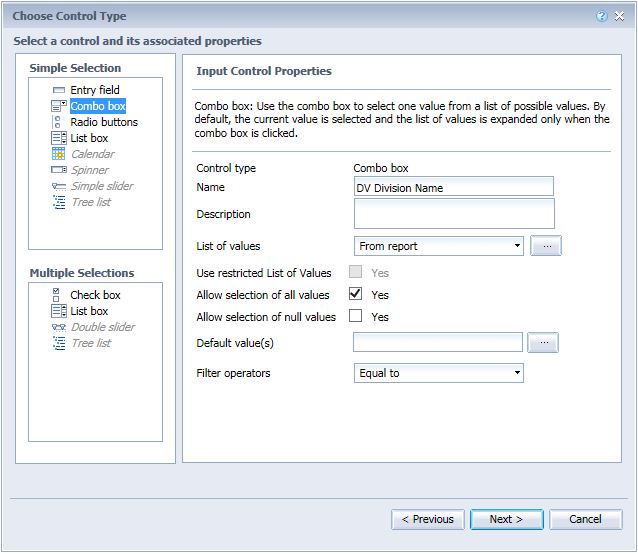 5. Fill out any of the properties options that you'd like. Depending on your Input Control Type, you will see different choices.
6. Once you're happy with your selections, click "Next >".
7. Decide what this Input Control should effect:
The whole report vs. the current report.
Within the current report, which tables should be filtered.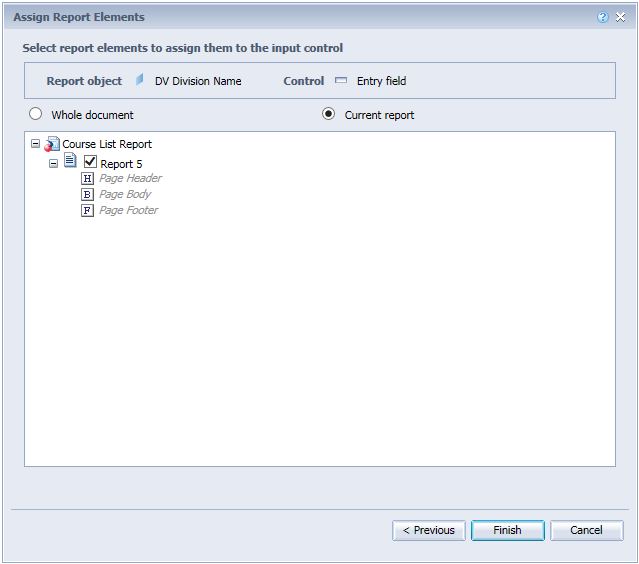 8. Click "Finish".
9. The input control will appear in the Input Controls panel on the left side.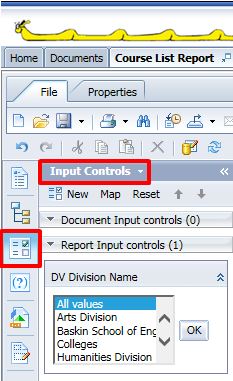 Tip: If you save your report with this panel selected and showing as above, the report will open with this panel showing by default.
10. If you want to delete or edit an existing Input Control, hover your mouse over the heading of the Input Control. A set of buttons will appear including one shaped like a wrench for editing and an "X" for deleting.

11. Above the input controls is a button labeled "Map" which shows a structural view of which input controls effect which tables. Clicking on "Map" again will change the panel back to showing the input controls.
12. All Input Controls can be cleared by clicking "Reset"
13. The order of your Input Controls can be changed by selecting the input control with a single click, and then pressing the "up" or "down" buttons to change the position.