Importing Excel Files
Introduction
You can import Excel Files into InfoView and use them in your queries. Your Excel columns will become objects in InfoView that you can use exactly like you would objects from a universe.
This can be a very powerful data tool, especially when combined with other universes and data sources via Multiple Queries. See our Multiple Queries Guides for more information.
One important thing to keep in mind is that sharing reports based on Excel data is more complicated. Querying an excel file means retrieving data from a file stored locally in your InfoView account folders. Someone else does not have access to your personal folders.
Note: It may be helpful to first read through the Data Types and Object Types Guide. Usually InfoView can assign these attributes to your Excel columns automatically, but understanding how they affect the behavior of each object in your reports may help you use Excel more purposefully.
Video
Excel Files
Step 1: Prep your Excel File
Example: Excel Test File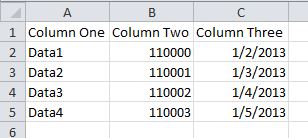 1. Row 1 should contain headers only. These will be your object names within InfoView.
2. Make sure that your column header names are unique; no two headers should be named exactly the same.
3. Column A should contain your first header and content; no blank columns to the left.
4. Your columns and rows should be contiguous: you should have no blank columns or rows between columns or rows with content.
5. Make sure that your data and your headers don't have unnecessary formatting, especially things like carriage returns.
6. Save your report with a unique name.
Step 2: Import your Excel File
1. Log in to InfoView. Navigate to the location that you would like to save your excel file in (your My Favorites folder or a shared folder that you have writing access to)
2. Click on "New" and select "Local Document"
3. Click "Browse" then find your report, select it and click OK
4. Click "Add"
5. You will now see your Excel file show up in the location you chose. It will have a green "Excel" icon. If you click on it, it will download the file and open in Excel.

Step 3: Use an Excel File in a Query
1. When you start a report, you'll see that "Excel" is an option. If you're editing an existing report, Excel will show up as a data-source type for an added query or a data-source change (see the Multiple Queries Guide).
Select "Excel" and click "OK".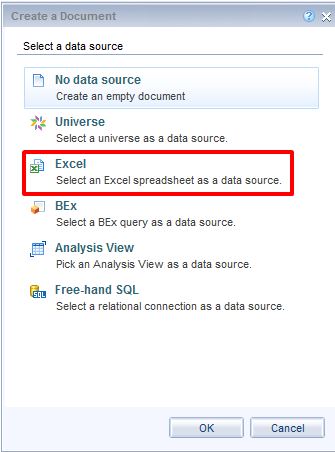 2. Once you pick "Excel" as a data source, you will have to locate the file in your documents or shared folders and click "Open".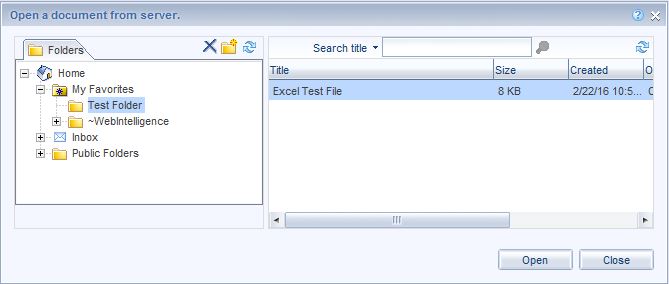 3. The panel "Custom Data Provider - Excel" will pop up with some options. Make your selections about which sheets to import and if you want all fields. Be sure that "First row contains column names" is checked.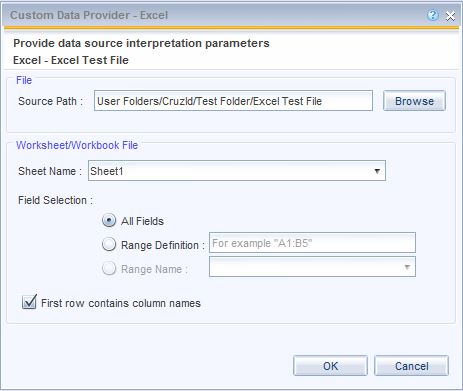 4. Click Ok.
5. To return to the "Custom Data Provider - Excel" panel to change your choices, click "Edit Settings..." underneath the Query Definition bar on the left panel.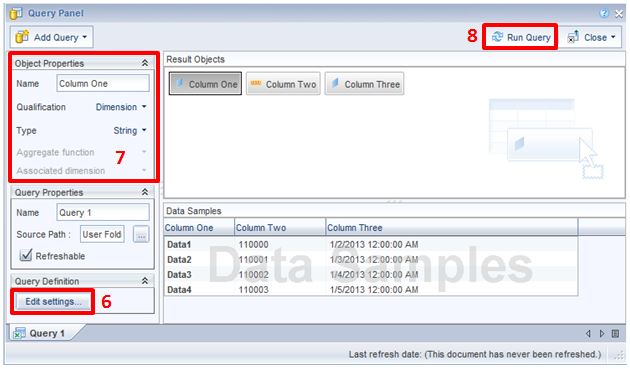 6. InfoView has automatically assigned each column in your Excel sheet a data type and an object type ("qualification").  However, each object can be selected and the properties changed if desired.
For more information about these choices, check out the Data Types and Object Types Guide.
The "Data Samples" section in the lower right corner also shows a few sample rows for each object.
7. When you're satisfied with your selections, click "Run Query". Your report is now savable, refreshable, formattable and exportable like any other InfoView report.
Note: To use data retrieved from Excel along with data from InfoView, consult the Multiple Queries Guide.